Exactly 1 week ago, I switched from Android to master race iOS. After watching the 16th October episode of The WAN Show which states that 87% of Android is insecure, I decided to give iOS a try and bought an iPhone 6S, one week after it was released here in Malaysia.
Ta-dah! Brand new Apple iPhone 6S.
After using the phone for one week, I decided to write a blog post about my first ever iPhone experience, a week after. Note that I use iOS device too, other than this, which is my iPad Air I got 1 something year ago. But the experience is just so different in the iPad and the iPhone.
Headed to iOi City Mall in Putrajaya to watch 我們的少女時代 and ended up in Machines after the movie. Bought an iPhone 6S Gold. No, I'm not eyeing for the rose gold.
Fluid Fast
This is the thing I like most after using the iPhone for a week. It is fluid fast. The A9 processor is just fast even though it is only a dual core processor and only has 2GB of RAM. I realise that software optimisation by Apple increases the speed by a lot. Just look at this speed comparison between the iPhone 6S and the Samsung Galaxy S6 edge+.
One thing about the Touch ID though. I never used a phone with a fingerprint scanner before, and this is my first phone with a fingerprint scanner. It is too fast. Just clicking the home button automatically unlocks the phone and I don't have the time to check on my notifications.
3D Touch Changed my Life
Something new from Apple. All this while, the touch screen is just 2 dimension. 3D touch brings a whole new world to the touch screen world.
3D touch isn't something that is really useful, but once you get to using 3D touch, doing stuff is much, much, much easier and faster. More about 3D touch in this video below.
Also, live photos is a new thing from Apple in iPhone 6S. The camera would automatically record a few seconds before and after a picture. Might be very useful when taking group pictures or nature pictures. Probably not a good idea for selfies because the last few seconds would be you putting the phone down. It also takes double the space than a normal picture, which goes to the next one
16GB Base Model Should be Banned
Seriously, Apple? 16GB for base model? With the 16GB base model, only 11.8GB is available and everything eats up quickly. Which is why I am considering getting an USB OTG cable from Taobao. Talking about cables brings us to
Lightning Cable is Great, But…
all my other cables are now unusable. I've been using Android and Windows Phones all this while, thus why I have a lot of micro B cables. All these cables are unusable now and I have to carry that very long lightning cable to charge my phone with my power bank and have it dangling outside my pockets.
I can't have enough rants about lightning cable. Don't get me wrong, when Apple announced the Lightning cable, I thought it was a great innovation from Apple. Now I don't have to worry about going in the wrong hole wrong orientation. Probably the world wouldn't have moved to USB C if Apple didn't start using the Lightning cable. I am also getting some short lightning cables from Taobao so I don't have wayar berjuntai (dangling cables) from my pockets anymore.
I don't usually open my accessories when I buy a new phone because I have too much cables and chargers that I've used before. I'm still using my trusty PANTECH Vega R3 dual output charger for my bluetooth speaker and charging my phone. Still using my old iPad cable to charge this phone, which is kind of, broken. When joining the iOS master race, remember that the Lightning cables from Apple are so fragile, and my old iPad cable has officially broke and I joined the cable spring wrap cult.
Battery Life is Not as Good
I've been struggling to have my regular bedtime-bedtime lifetime I had on my previous phones but battery life on the iPhone 6S is not as good as it is on the iPhone 6S Plus, which makes me use my power bank everywhere I go nowadays. A full charge could last me usually until around 6PM.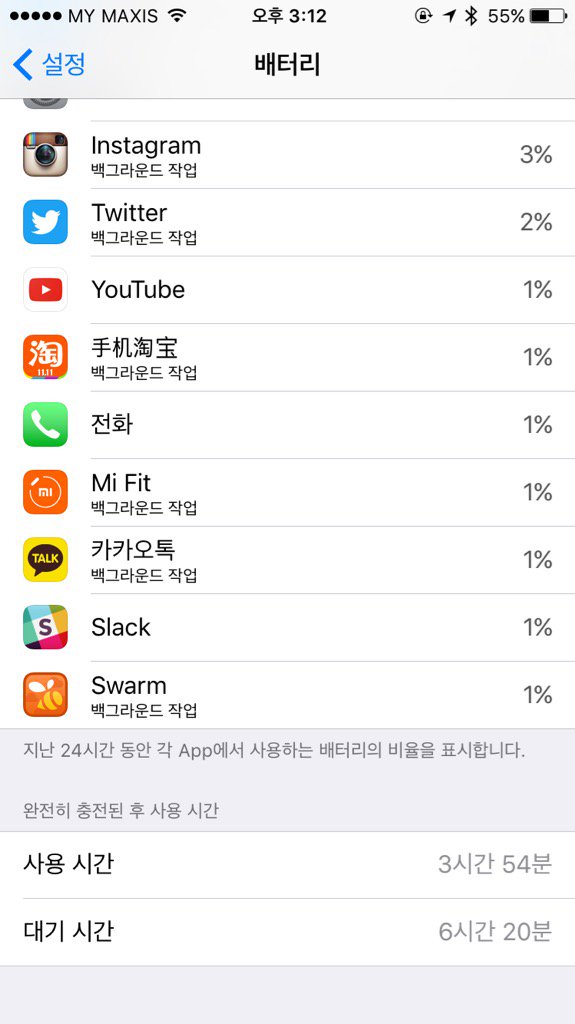 On the bright side, I get to use my power bank more often.
Where is the Back Button?!
First few days of me using the phone, I realised I've been always trying to reach the back button which I am accustomed to in Android. There is no back button!
On the bright side, with iOS 9, when switching between apps, a small back button on the top left corner is there to go back to the previous app.
---
It's all I can say after my 1 week experience with my first ever iPhone! I am getting a lot of accessories from Taobao, and am awaiting their 11th November sale! I'll write a pre-11th November post to show what I am getting.
I am still looking for cases though. Any ideas for cases are welcome!